Impossible Car Stunt 2022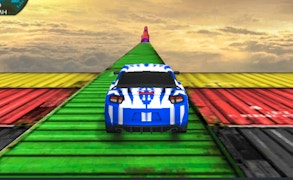 Impossible Car Stunt 2022
Unleash the speed demon within with Impossible Car Stunt 2022, a gravity-defying spectacle in the realm of car racing games. Brace yourself for an adrenaline-charged journey through the treacherous trails of the sky. If your heart beats for high-octane car games, then this thrilling offroad experience is meticulously crafted just for you.
Throw yourself into extreme car racing on impossible tracks soaring through aerial heights, that only the bravest dare to venture. As a player, your skill will be tested to its limits as you navigate these precarious paths and pull off audacious stunts in this driving game. It's not every day you find such high stakes in skill games, making it a perfect battleground for passionate racers who crave unmatched challenges.
The game is beautifully designed which adds an artistic touch to its relentless thrill. The landscape is a daunting yet enticing blend of beauty and peril, perfectly encapsulating the spirit of offroad games, where one misstep could lead to catastrophe.
Beyond its incredible graphics, Impossible Car Stunt 2022 offers more than just aesthetics. It brings pulse-pounding excitement and unpredictability at every twist and turn. You'll feel like a true stunt master as you weave through airborne hoops and hurdle over abyss-like chasms at breakneck speed.
In conclusion, if you're seeking exhilarating car games with nail-biting tension and relentless speed or if you're in search of offroad driving games that bend reality and challenge norms, then look no further than Impossible Car Stunt 2022. Embrace the chaos, relish the unbridled thrill of this game because it's more than just a racing challenge - It's where road warriors are born.
What are the best online games?