Icy Tower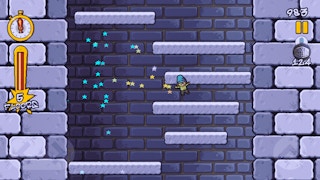 Icy Tower
If you've ever yearned for the undiluted, exhilarating thrill of an arcade game that takes you on a never-ending adventure, the remarkably entertaining 'Icy Tower' has arrived to quench your thirst. This Swedish freeware game, a finely-crafted homage to the Nintendo classic Ice Climber, ushers gamers into a whirlwind of fun on an infinite level.
You are invited to traverse an inexhaustible tower with over 1,000 levels, each promising the pure joy of flash games and the thrill of escape games. The objective is simple yet incredibly addictive - build momentum, bounce off walls and create impressive combos as you ascend this icy monolith. The eternal nature of Icy Tower, coupled with its tight controls and accurately designed physics, ensures endless replayability without a hint of tedium.
The key to success in this compelling journey is mastering the art of movement. Every jump from floor to floor amplifies your ascending velocity, creating a tantalising rhythm that beckons gamers with its 'just one more go' allure. Every level feels fresh and challenging; every combo you successfully pull off leads you closer to conquering the top.
'Icy Tower' stands tall among modern arcade classics. Its unique charm has been replicated hundreds of times but never eclipsed. Since its inception in 2001, this platform game has captivated casual gamers worldwide, forever addictive with its promise of endless adventure.
Fans of flash games seeking their next addiction or arcade veterans longing for some nostalgic fun should undoubtedly give Icy Tower a go. Immersive gameplay combined with stunningly immersive visuals ensures hours upon hours of entertainment. So why wait? Tune into the timeless classic 'Icy Tower' on GamePix now!
What are the best online games?
Tags