I'm not a Monster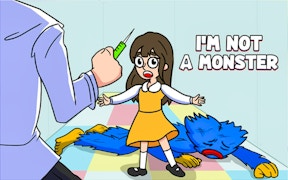 I'm not a Monster
In the imaginative landscape of brain games and monster games, "I'm not a Monster" emerges as a stimulating standout. It is a riveting puzzle game that beautifully intertwines an arresting narrative with challenging cerebral elements, making you rethink your conventional notions about monsters.
The storyline is astoundingly intriguing. Steeped in hypotheses borne from the enigmatic world of Poppy Animation, this game explores Huggy Wuggy's past and offers an alternative perspective. Instead of just another creature from your worst nightmares, it hints at Huggy Wuggy being a misunderstood toy trapped in an abandoned factory.
As the player, you step into the shoes of a brave girl embarking on an adventure to save her childhood toy - Huggy Wuggy. The appeal of the storyline resides within its emotional resonance - after all, haven't we all loved a toy unconditionally? The journey brings your problem-solving skills to the forefront through tricky level games, blending suspense with intellectual stimulation in perfect harmony.
"I'm not a Monster" elegant marriage of gameplay mechanics and narrative is an absolute delight for gamers who enjoy narratives that subvert expectations and challenge prejudices. This game stimulates your cognitive abilities with intricate puzzles while tugging at your heartstrings with its poignant storyline.
Hence, "I'm not a Monster" is far more than just another entry into the realm of brain games. It's an enthralling fusion of emotionally engaging storytelling and brain-tickling puzzles that captures your imagination and leaves you craving for more. This delightful blend transforms what could have been just another monster game into an immersive experience that warms your heart and excites your brain.
What are the best online games?
TAGS