Hungry Squirrel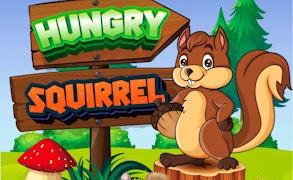 Hungry Squirrel
Description
Immerse yourself in Hungry Squirrel, a riveting arcade game that will keep you on your toes. You step into the shoes of a vivacious squirrel who has an insatiable hunger for nuts. The game gets more challenging as you progress, with pace intensifying every minute, further strengthening the grip on your reflexes and quick decision-making abilities. The game boasts a critical element of thrill as you evade the sneaky birds and navigate through densely forested landscapes to gather nuts, all while trying not to bump into walls.
How to play
The game controls are easy to grasp. Use your arrow keys or swipe on your mobile device to move your squirrel in the desired direction. You need to deftly maneuver through trees and sketch out a safe path to collect as many nuts as possible while avoiding obstacles. The faster you get, the harder it will be. Your ultimate goal is to score high and survive for the longest time possible.
Tips and Tricks
To excel in Hungry Squirrel, focus on timing and precision. The faster pace might intimidate initially but remember that speed also results in a higher score accumulation. Quick reflexes and anticipation of movements from troublesome birds can save you from unexpected knockouts.
Features
Dynamically increasing difficulty: The speed continues to rise as the player progresses, making the game increasingly challenging.
Intriguing Obstacles: Crafty birds that hover around trying to halt your progress add an extra layer of challenge.
User-friendly Controls: Simple arrow keys or swipe controls cater to a smooth gameplay experience.
High Score Motivation: Top score tracking motivates the players to constantly improve their gameplay.
What are the best online games?