Hungry Red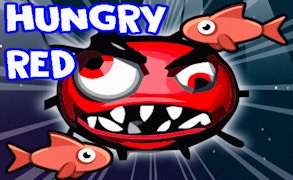 Hungry Red
Description
In Hungry Red, you need to assist an ambitious and ravenous character named Red in his oceanic adventure. Your mission is to help him catch as many fish as possible without touching the screen boundaries. With stunning graphics and an addictive gameplay, you will be challenged to set new high scores each time you play! Be careful not to get too greedy as hitting the game's boundary ends the game immediately.
How to play
The controls are extremely simple yet engaging. Use your mouse or touchpad to command Red's movement towards the fish across the screen. Take note that Red moves in a straight line towards wherever you click or tap. However, avoid any contact with the borders of the screen as this will end your fishing expedition almost instantaneously.
Tips and Tricks
Avoid quick and rash decisions as they usually lead to crashing into the game boundary. Always plan your moves ahead of time and remember, it's not just about catching fish but also about survival. Remember, being strategic in your movements is the key!
Features
Straightforward Gameplay: Simply click or tap on-screen to move Red.
Addictive: Challenge yourself to beat your highest score every time.
Vibrant Graphics: Enjoy fun and engaging visual effects.
Casual Fun: Perfect for short breaks or longer play sessions.
What are the best online games?