How Many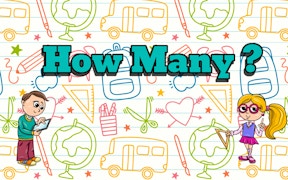 How Many
Description
Stride into the engaging world of "How Many". It's an entertaining educational game designed to engage children in mastering counting skills. By providing a diverse environment filled with objects, children will enjoy discovering and counting items while sharpening their attention and numerical understanding. The game presents multiple difficulty levels, making it suitable for various age groups.
How to play
To play "How Many", children are presented with a colorful scene filled with various elements. They are then asked to count specific items within this scene. Controls are simple and kid-friendly - just a click or tap on the screen! As they progress through the game, the scenarios become increasingly complex, challenging them to hone their counting skills.
Tips and Tricks
For optimal progress in "How Many", always encourage your child to take their time when counting items. Repeat counts if necessary, accuracy is more important than speed. Include everyday situations as learning opportunities outside of the game for kids to practice their newfound counting skills.
Features
Suitable for various age groups.
Kid-friendly controls - just a click or tap on the screen!
Vividly colorful and immersive scenario design.
Multiple difficulty levels to challenge and engage your child's counting abilities.
What are the best online games?
Tags