Hover Skirt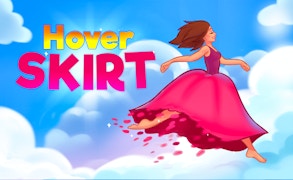 Hover Skirt
Welcome to the whimsical world of Hover Skirt, where high-fashion meets gaming in an exhilarating spectacle. As a stylish young girl, you create your runway over the abyss, using a long, vibrant skirt made of colorful stripes that allows you to hover. But is it magic, a tribute to Mary Poppins, or perhaps an intricate ballerina's pas? The power to decide lies in your hands.
Style and Gameplay Intertwined
As you saunter along the catwalk-like ground, your avatar not only picks up skirts and dresses but also embraces high-fashion accessories such as high heels and wigs. The challenge? It's a race against time. Each fashion item picked extends your dress and your time in this stylish skyward journey.
Choose Your Destiny
The game adds a twist of destiny, offering you two distinct paths - that of an angel or a demon. What will you choose in this eternal fashion battle? Will you adorn angelic whites and pastels or channel your inner dark diva with devilish reds and blacks? The choice is yours, and each selection offers a unique gaming experience, changing the gameplay's dynamics and aesthetic.
Hover Skirt isn't just a game; it's an inventive amalgamation of style and gaming, promising an unmatched, adrenaline-pumping experience. Create your most stylish dress, choose your path, and let the high-fashion hover journey begin. Ready to ascend to a realm of style and gaming combined? Try Hover Skirt now and soar the skies in the most fashionable way possible.
What are the best online games?