Horse Racing Derby Quest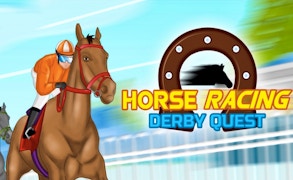 Horse Racing Derby Quest
Unleash your inner equestrian with the enthralling Horse Racing : Derby Quest, a game that blends the thrill of sports with the charm of animal games and the challenge of skill games. Get ready to embark on an exciting journey, racing against some of the world's finest champions, as you strive to become a star!
Immerse yourselves in the compelling role of a young jockey aiming for global recognition. Horse Racing : Derby Quest puts you right in the heart of exhilarating horse races, surrounded by thundering hooves and heart-stopping finishes. But it's not just about crossing the finish line—it's about becoming a true horse racing champion.
Nurture your stable, enhance your horses' performance, and witness your efforts bear fruit as you race on over 40 unique tracks and derby events worldwide. With each stride and every competition, you'll come closer to fulfilling your quest for glory. It's an extraordinary display of skill that will keep fans of animal games and sports games riveted.
The game extends beyond the racecourse. It presents a haven for horse care where players can attend to their horses, nurturing them into tip-top condition for each upcoming competition. The better care you provide, the higher your odds at securing victory.
In conclusion, Horse Racing : Derby Quest is much more than an animal or skill game—it's a thrilling journey into becoming a world-renowned jockey. So saddle up and get ready to ride your way to supremacy in this magnificent merger of detailed management simulation and adrenaline-pumping racing action!
What are the best online games?
Tags