Hopscotch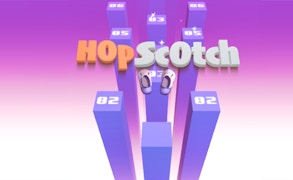 Hopscotch
Description
Engage in the delightful realm of Hopscotch, a captivating number-based arcade game. Your agility and ability to think on your feet will be put to the test as you jump onto platforms, showcasing your dexterity. Navigate through ever-increasing difficulty levels, keeping an eye out for obstructions and challenges along the way. Leap into fun with each numbered platform, shattering high-scores with every audacious jump.
How to Play
The game controls are pretty intuitive and easy to use. Simply use your left and right arrow keys to hop onto different platforms. The game advances as you manage to land on the correct numbered platform without tripping or falling off. Beware of misplaced jumps, they can cost you your progress!
Tips and Tricks
To excel in Hopscotch, carefully plan your jumps instead of rushing through levels. Practice makes perfect here - the more you play, the better you'll get! Keep an eye out for patterns in platform numbers, they might be the key to scoring high!
Features
This challenging yet fun-filled game comes with:
An increasingly difficult gameplay that puts your agility to test.
Intriguing number patterns that provide a mental exercise while playing.
A leaderboard system that keeps track of high-scores, stirring up competition.
A user-friendly interface suitable for players of all ages.
What are the best online games?