Hop Ball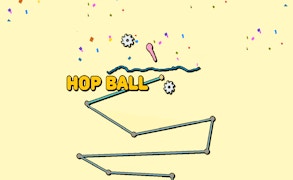 Hop Ball
Description
Hop Ball is a vibrant and addicting arcade game that will test your agility and precision. Your job is to keep a bouncing ball from plummeting off the edge of the screen. However, be cautious - obstacles like electricity and saws are scattered throughout, waiting to derail your progress. It's all about quick reactions and strategic planning in this high-energy game.
How to Play
The controls for Hop Ball are simple; just touch the screen to create temporary walls that will steer the ball away from danger. The challenge arises from timing your touches perfectly to lead the ball through increasing levels of difficulty. Progression in the game depends on how long you can keep the ball alive and bouncing.
Tips and Tricks
Avoid drawing lines haphazardly as this will lead to chaos on the screen. Instead, strategize by anticipating potential dangers and guide your ball accordingly. Quick reflexes combined with a calm approach are key to achieving high scores in Hop Ball.
Features
Simple Controls: Just touch the screen!
Addictive Gameplay: Fast-paced action that keeps you coming back for more.
Diverse Obstacles: Electricity, saws, and more keep each game session unique.
Increasing Difficulty: Each successive level is harder than the last, providing an enduring challenge.
What are the best online games?
Tags