Hockey Challenge 3D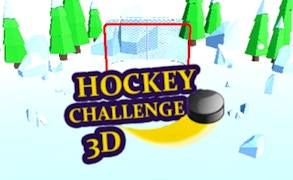 Hockey Challenge 3D
Prepare to be engrossed in the exhilarating world of Hockey Challenge 3D, one of the most captivating hockey games on the gaming circuit. This cutting-edge 3D challenge will transport you straight to the icy, adrenaline-filled arenas of professional hockey from the comfort of your own home.
The game's aim is deceptively simple: Target Shoot the Crazy Tricky Shot in the goal. However, don't let this seemingly straightforward objective fool you. The genius lies in its execution and perfecting your timing and precision. The more you play, the better you get, and the further you can progress in this addictive hockey challenge game.
Be it with a mouse or touch functionality; the controls are incredibly intuitive and responsive. You'll find yourself deftly maneuvering your way across the field, outsmarting your opponents with ease. Unlike many other sports simulations out there, Hockey Challenge 3D strikes a perfect balance between strategy and action, making it a must-play for die-hard enthusiasts of ball games.
The graphics are crisp and immersive, evoking a true sense of being in a high-stakes match against formidable competitors. From the intricate details of players' movements to their uniforms' textures, every element contributes to creating an immersive gaming experience that is definitively representative of top-tier hockey games.
In conclusion, whether you're a seasoned player searching for your next challenge or new to sports games, Hockey Challenge 3D provides an excellent platform for player growth and continual gratification. Its rich gameplay mechanics coupled with stunning visual design makes it an astonishing interactive sporting spectacle that should not be missed!
What are the best online games?
TAGS