Highschool Girls House Cleaning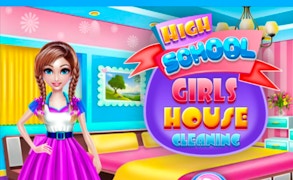 Highschool Girls House Cleaning
Embark on an exciting journey of teenage adventure with Highschool Girls House Cleaning, a one-of-a-kind experience within the realm of Games for Girls. Before you contemplate the idea of living with your best friend, dive into this engaging game to get a real-world perspective on what it truly entails.
The game's impeccable design and realistic portrayal put you right in the midst of high school life, making it one of the most enchanting Games for Girls. The core mission - cleaning around the house - offers a unique challenge that perfectly blends fun and life skills. A key focus is the bathroom, where players are tasked with ensuring cleanliness and disinfection. This intricate task is a standout feature of Highschool Girls House Cleaning, teaching essential skills while providing hours of entertainment.
Moving on from the bathroom, your domestic expedition extends to the kitchen and bedroom. Each room calls for your undivided attention, testing your organizing abilities and perseverance in maintaining neatness. As part of playing this immersive Girls Game, you will develop essential life skills and responsibilities, making Highschool Girls House Cleaning more than just a game.
To conclude, Highschool Girls House Cleaning sets a new benchmark for games aimed at girls, offering an enthralling blend of fun-filled tasks and practical life lessons. While it provides non-stop entertainment as a videogame, it leaves no stone unturned in preparing its players for real-world challenges. So girls, step into this fascinating virtual world to test your cleaning skills while having loads of fun!
What are the best online games?
TAGS