High Pizza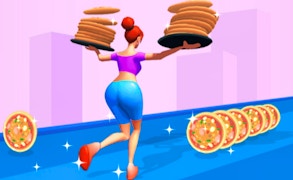 High Pizza
Find yourself transported into a whirlwind of fun and flavor with High Pizza, a fresh and exciting game brewing in the oven of running games, skill games, and cooking games! Whether you're new to the world of arcade games or a seasoned player, High Pizza is sure to capture your heart and have you coming back for seconds.
The core objective of High Pizza is simple yet engaging - serve up piping hot pizzas to eager customers while avoiding any spoiled ones. As the chef, you're put in charge of managing this bustling pizza kitchen. Don't let the customers waiting for too long or allow them to encounter those pesky rotten pizzas - that's part of your challenge here!
This innovative game cleverly merges elements from running games and skill games. The pace is fast, akin to being on a never-ending run. Add in the skill factor; quick decision-making is essential to avoid obstacles and keep serving those delicious pizzas. Together, these ingredients make High Pizza an unrivalled experience amongst other cooking games.
What distinguishes High Pizza as an outstanding game in the genre are its colorful graphics, intuitive gameplay, and the ceaseless thrill of trying to beat your high score. It's essentially an endurance run in which you're not only racing against time but also against your own culinary skills.
It's worth noting that High Pizza offers more than just fast-paced gaming action; it's also filled with exhilarating suspense, intense concentration, and strategic planning. The bottom line? This game appeals to anyone who enjoys quick reflexes married with strategic gameplay.
To sum it up, High Pizza stands out from the crowd of arcade offerings by providing a unique blend of running games with cooking-centric mayhem delivered through superior gameplay mechanics and visually appealing graphics. So roll up your sleeves, chef - it's pizza time!
What are the best online games?