Hexa Merge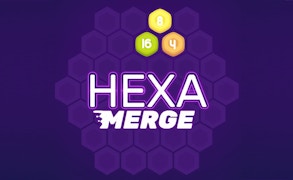 Hexa Merge
Description
Experience a captivating fusion of classic puzzle elements in Hexa Merge. This game combines the strategic matching involved in Match 3, Hexa block's element of space management, and 2048's numeric challenges to provide a unique yet compelling gameplay. The objective is simple: score as much as possible by strategically placing blocks on the hexagonal grid. Will you rise up to the challenge?
How to Play
The controls for Hexa Merge are easy to master. Simply drag the blocks around and drop them onto empty tiles on the game board. Looking for more strategic moves? Employ the 'tap' function to swap between two blocks. Remember, every move counts and strategic placement is key to achieving a high score.
Tips and Tricks
In Hexa Merge, always keep an eye out for potential combos, as they yield higher scores. Try to keep your grid as clear as possible, giving you more room for future moves and prevent getting blocked prematurely. And lastly, don't rush - take your time to plan your moves carefully.
Features
Intriguing Gameplay: Offers a perfect blend of Match 3, Hexa block and 2048 gameplay elements.
User-friendly Controls: Simple drag, drop, and tap functions for a seamless playing experience.
Puzzle Strategy: Challenges players with strategic decision-making.
Addictive: High replay value with endless scoring possibilities.
What are the best online games?