HEX !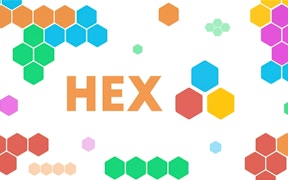 HEX !
Engage your minds and dive into the addictive world of HEX!, a captivating entry into the realm of brain games, that challenges you with its ingenious block games mechanics. Designed with simplicity and a clever premise, this game will hook you from the moment you start playing.
Hex! is an innovative concoction of puzzle and match-three elements, inviting gamers to arrange hexa blocks in blank grids with strategic precision. The gameplay is impressively smooth, allowing players to drag and drop hexa bricks easily, a characteristic trait of hyper-casual games that's guaranteed to keep your attention glued to the screen.
The game's prime principle is easy to grasp but hard to master: fit the hexa bricks into blank spaces. Merge identical pieces, destroy full lines of tiles and watch your score skyrocket. The thrill of fitting each hexa block perfectly in its place, akin to solving a tantalizing riddle, is what makes Hex! an irresistible treat for fans of puzzle and block games.
Beyond the enthralling gameplay, HEX! also doubles as a mental fitness app designed to stimulate your cognitive skills. Its methodical demand for precision presents an unmatched opportunity for brain training disguised as casual gaming fun.
In essence, HEX! is not just a game but rather an engaging experience that offers hours of fun while activating your neurons. It stands out amongst Addictive Games, effortlessly merging entertainment with intellectual challenges. If you desire a stimulating encounter wrapped in simplistic design and infinite gameplay possibilities, look no further than HEX!. This title deserves applause for successfully combining elements from different gaming genres while retaining its unique personality among other hyper-casual games.
To summarize it all - HEX! is absolutely worth checking out whether you are a casual gamer or a hardcore puzzle enthusiast. Its elegant simplicity, engaging gameplay and stimulating brain-training aspect seal its status as one of the best brain stimulating block games in the market.
What are the best online games?