Heroes Head Ball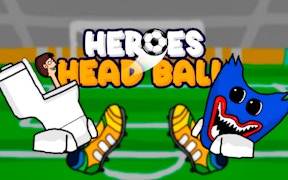 Heroes Head Ball
Description
Heroes Head Ball is a unique football-focused arcade game where players use their heads, literally! Step onto the green field and engage in an eccentric form of soccer, using your character's head to score goals. With options to play against a friend or an AI, you choose your unique character from 10 available options and kick off the match.
How to Play
To play Heroes Head Ball, you need to maneuver your character to hit the ball with their head and direct it into the opponent's goal. The player who scores the most goals wins the match. You can challenge your friend in multiplayer mode or test your skills against the game's artificial intelligence.
Tips and Tricks
Try to anticipate the ball's trajectory as much as possible. Use timing and positioning to your advantage. Sometimes, a quick change in direction can throw off your opponent and create an opening for a swift goal.
Features
Versatile Gameplay: Challenge friends or AI.
Diverse Characters: Choose from 10 unique characters with different attributes.
Arcade Style: Fast-paced, head-bopping soccer action.
Skill-Based Mechanics: Test your precision, timing, and strategy to score.
What are the best online games?
Tags