Heroe Adventure Shooter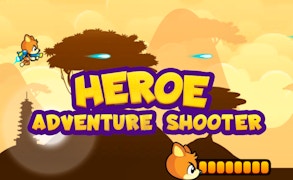 Heroe Adventure Shooter
Description
In Heroe Adventure Shooter, you assume the role of a brave savior traversing different landscapes plagued with menacing monsters. From flying creatures to terrestrial beasts, your aim is to free the world from their ghastly clutches. You'll have access to an arsenal of potent firearms and special power-ups to aid in your epic mission. Dive into this captivating action game, reminiscent of classic Mario-style gameplay coupled with intoxicating gun battles.
How to play
Control movement with your keyboard arrows, and target threats with your mouse cursor. Left-click to shoot and vanquish foes. Keep an eye out for power-ups that enhance firearm ability or replenish health. Progress through various levels, each presenting unique challenges and monstrous adversaries. Your ultimate goal: restore peace in each territory.
Tips and Tricks
Be strategic about the use of your ammo, as some monsters require multiple hits. Master dodging enemy attacks while simultaneously landing your shots. Prioritize collecting power-ups that can turn the tide during a difficult battle, particularly health boosts when running low.
Features
Different types of firearms: Each providing unique firepower and strategy options.
Variety of monsters: Encounter diverse creatures posing distinct challenges.
Numerous levels: Explore various settings each with its own landscape, enemies and opportunities for power-ups.
Mario-style gameplay: Experience action-packed gameplay inspired by classic Mario games.
What are the best online games?