Heroball Adventures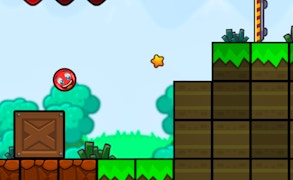 Heroball Adventures
If you're a die-hard fan of ball games, skill-testing challenges, and thrilling escape scenarios, you've got to delve into the intriguing world of Heroball Adventures. This exclusive-to-kiz10.com game presents an interesting blend of genres that will doubtlessly keep you entertained for hours on end.
In this engrossing game, a peaceful day is abruptly turned topsy-turvy when friends of our adorable red heroball are mysteriously whisked away by ominous machinery. But fear not, for with your astute gaming skills, you can turn the tide and bring them back safely.
The game does a stellar job fusing skill games mechanics into its gameplay. From each swift movement to every calculated roll, your capability as a seasoned gamer will be put to the ultimate test. But that's where the fun lies—overcoming each challenge gives an exhilarating sense of achievement that only experienced arcade game lovers will understand.
What sets Heroball Adventures apart from other ball games is its unique escape games element. The thrill of navigating through puzzling landscapes while attempting to dodge the capture from various kinds of machinery generates heart-pounding excitement that's hard to find elsewhere. Each level presents its own set of challenges—no two stages feel alike—providing endless fun and replayability.
In conclusion, Heroball Adventures is a testament to inventive game design—a mashup of ball games, skill games, and escape games into one captivating package. With its compelling storyline, challenging gameplay mechanics and high replay value, Heroball Adventure's spherical escapade stands tall in the realm of online arcade gaming. Don't miss out on this exciting adventure - it's time for you to roll!
What are the best online games?