Hero: Telekinesis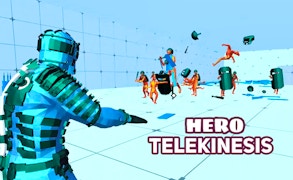 Hero: Telekinesis
Have you been earnestly searching for a game that dares to be different, resonating with features of battle games, aspects of war games, and the kinetic excitement akin to boxing games? Look no further! The game under our precise scanner today is none other than the unique, adrenaline-fueled, action-packed Hero: Telekinesis.
This remarkable game is a truly dynamic blend of various genres. It encompasses the fantastic elements of robot games, imbuing its characters with an enigmatic aura. It marries that with the pulsating thrills typical of monster games, making for an incredibly immersive gameplay experience. You can feel the rush synonymous with running games, and also get your hands on the firing fun derived from gun games.
In Hero: Telekinesis, you have been bestowed with an amazing telekinesis ability—a power rare in even the most top-tier battle games. Just by your unfettered will, you can influence physical objects, allowing you to attract them and hurl them at bewildered enemies. Imagine flinging explosive barrels into hordes of enemies and watching how they scatter; it's like cracking a visual spectacle!
The game gets progressively intriguing as you attempt to destroy intimidating towers armed with arrows—using their very fragments as weapons! Huge bosses clad in armor are a sight to behold and a challenge to defeat, taking elements from both robot and monster games for a unique enemy design.
The most testing aspect might be dealing with foes who can deflect your attacks using shields—all while arrows are relentlessly showering upon you. But isn't overcoming such hurdles what makes us fall in love with war and battle games?
To sum it up, Hero: Telekinesis is a vivid amalgamation of battle, war, robot, monster, running, and gun games—a distinct fighting offering that truly stands apart in its genre. So wield that power of thought and dive into this riveting adventure!
What are the best online games?