Hero 2: Super Kick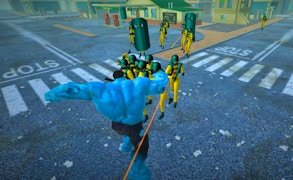 Hero 2: Super Kick
Welcome to the world of Hero 2: Super Kick, a titan in the genre of fighting, battle games, and a real treat for war games, monster games, boxing games, and survival games enthusiasts alike. Plunge yourself into an adrenaline-fueled universe where you mutate into a colossal beast, destined to crush enemies with a simple blow.
The game provides an intriguing mix of raw strength and strategic gameplay that sets it apart from other titles in the arena of battle games. In Hero 2: Super Kick, you can employ numerous attack types, increasing the thrill as you watch your defeated adversaries scatter into oblivion. Whether it's sweeping through infantry like a hurricane or launching long-range assaults on distant foes – the choice is yours.
Let's not forget about the breathtaking environmental interactions. Picture this: with lightning speed and precision, you leap from one building to another decimating rooftop snipers. The destruction and chaos mirror the might of your character proving it to be more than just a typical monster game.
In this unique blend of war and boxing game conventions, each battle is a matter of survival. You're not just fighting enemies - you're staving off extinction in this post-apocalyptic dystopia. The feeling of looming danger amplifies every punch thrown or building jumped, making for quite an exhilarating experience in survival gaming.
Hero 2: Super Kick truly stands out amongst its peers by marrying elements from multiple genres to birth an immersive gaming source that keeps you at the edge of your seat. Its unique combination of fast-paced combat mechanics and detailed world-building will ensure its appeal for any gamer looking for an engaging and challenging experience.
What are the best online games?