Hemisphere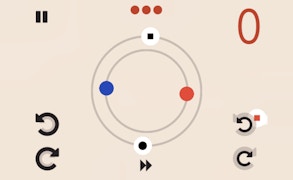 Hemisphere
Description
The game Hemisphere pushes your cognitive skills to the limit. As an interactive brain teaser, it divides your attention between two spheres that you control with both hands. The left hemisphere controls logical tasks and the right-hand side of your physical world, while the right hemisphere coordinates creativity and the left-hand side of your actions. Hemisphere creates a balance between these sides of your brain, intensifying the challenge and promoting intellectual growth.
How to Play
To play Hemisphere, you use both hands separately to control two rings within the game environment. The left hand must coordinate movements on one side while the right hand does the same on its side. The goal is to avoid obstacles and reach as far as possible without colliding with anything. Progress comes through practicing separate coordination tasks simultaneously.
Tips and Tricks
To succeed in Hemisphere, focus on dual coordination. Concentrate on synchronizing your reactions to meet each moment's requirements. Training yourself to multitask effectively will pave the way for better performance. Remember, practice makes perfect.
Features
The following characteristics make Hemisphere attractive:
Cognitive enhancement: It stimulates both hemispheres of your brain simultaneously.
Dual control scheme: It requires coordination of both hands independently.
Skill-based progression: Your progress is linked entirely to improving your skills.
Simplistic Design: Easy-to-understand interface allows users of all ages to enjoy.
What are the best online games?
Tags