Help The Cat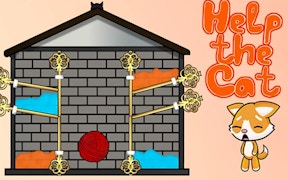 Help The Cat
Description
Experience the thrill of helping a curious feline in Help The Cat, an exciting puzzle game. Your primary objective is to guide our furry friend safely to its beloved toy by efficiently removing flaps. Challenge your wits through a series of intricately designed levels each featuring diverse logic problems.
How to Play
The controls are simple: use a touch or click to remove the necessary flaps, but choose carefully! The game progress is determined by how quickly and accurately you can route the cat towards its toy, with each level increasing in complexity. The fun lies in anticipating the cat's path and clearing the way.
Tips and Tricks
Patience and strategy are key. Take your time to plan out which flaps to remove before making a move. Predicting the cat's route ahead of time can be vastly beneficial for quick progression. Remember, not every flap needs to be removed!
Features
Intricately designed levels: Each level offers unique challenges and puzzles.
Addictive gameplay: The game increasingly grows more challenging intensifying the excitement.
Cat-themed puzzles: Appealing for both cat lovers and puzzle enthusiasts.
Simplified controls: Easy-to-use touch controls make it accessible for gamers of all ages.
What are the best online games?