Helix Jump Advanced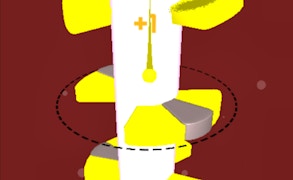 Helix Jump Advanced
Immerse yourself in a vivid, hyperactive, and adrenalising world of arcade gaming with Helix Jump Advanced, the sequel to the formidable original that dominated the realms of Hyper Casual Games. This refreshing arcade masterpiece effortlessly meshes simplicity with complexity, providing a riveting experience that will leave every gamer desiring for more.
No longer is ball gaming confined to the monotonous swipe and shoot; Helix Jump Advanced ushers an entirely new definition to ball games. This visually appealing game features a dynamic spherical entity - the Jumping Ball, that bounces in relentless pursuit of navigating through gaps in a spinning Helix Maze. It's more than just a game - it's strategizing at lightning speed and demonstrating exceptional precision under pressure.
A word of caution though - beware of the deceptive Red Planks! These seemingly innocuous obstacles can conclude your resilient journey through the helix tower. Yet, every challenge comes with bountiful rewards; conquer these trials to unlock exclusive Skill Games, and receive free balls as tokens of your indomitable spirit.
Amidst all this exhilarating action, don't miss out on appreciating the magnificent aesthetics. The vivacious colours serves as a lively backdrop to the thrilling gameplay. Furthermore, multi-levels of Helix Jump Boxes amplifies the challenge, ensuring you're engaged at every stage.
The beauty of this game lies in its one-touch controls - a clever design that is approachable for beginners yet challenging enough for advanced gamers. Simple to play but difficult to master, Helix Jump Advanced redefines what hyper-casual Arcade games are all about. Dive in today and be part of this enthralling ball gaming revolution!
What are the best online games?