Helix Descend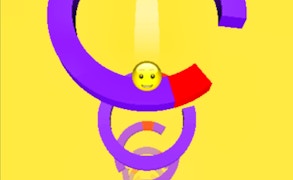 Helix Descend
Dive into the mesmerising, arcade world of Helix Descend, a striking amalgamation of ball games, skill games, and hyper casual gaming that effortlessly casts a spell on any gamer with its addictive gameplay. With every bounce, you'll find yourself tumbling deeper into the fun-fuelled abyss of this game's imaginative design and enchanting mechanics.
As the crème de la crème of arcade experiences, Helix Descend ensnares gamers with its simple yet captivating objective: navigate the ball through an ever-twisting tower. As you plunge through the vibrant, spiralling stages, each leap and bound is a testament to your skill. This game provokes those cherished "just one more try" moments thanks to its brilliantly balanced difficulty curve that both challenges and rewards.
This gem among ball games, Helix Descend's fluid controls are an exercise in elegant simplicity, attesting to its placement in top-tier skill games. It's this seamless blend of control and chaotic thrill that makes for an intoxicating mix, keeping your fingers glued to your device as you fervently strive for just one more bounce. Moreover, its spot-on physics adds another layer to the kaleidoscope of challenges, making each descent a thrilling endeavour.
In the realm of hyper casual games, Helix Descend stands as a reigning champion. Its charm lies not just in its quick-to-grasp gameplay but also in its gorgeous graphics which make each plunge a feast for your eyes. It's no wonder then, that this arcade marvel has been steadily earning accolades from gamers worldwide.
In essence, Helix Descend perfectly encapsulates the irresistible allure of arcade gaming - it's swift, it's exciting, and it's downright addictive. This is one ball game that skillfully descends right into every gamer's heart!
What are the best online games?