Hedgehog Throne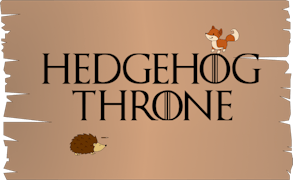 Hedgehog Throne
Description
In Hedgehog Throne, you're the protector of a blissful hedgehog kingdom. A cunning fox is plotting to take over, using an army of sly foxes. Your mission is to safeguard your throne and valley by utilizing your best weapon - your hedgehog spines! This engaging kids-friendly game offers endless hours of arcade-style fun.
How to play
The game employs simple controls. Use your mouse or touch the screen to aim and release your hedgehog spines at incoming foxes. The objective is to stun as many foxes as possible, ensuring the safety of your kingdom. The more foxes you stun, the higher you climb up in level and power.
Tips and Tricks
Keep an eye out for pattern in the foxes' approach - this could be key in planning your defenses. Don't hold back on releasing those spines! Speed and accuracy are crucial for protecting your throne. Remember, every stunned fox gets you closer to victory!
Features
Friendly and colorful graphics suitable for kids
Straightforward gameplay with easy controls
Addictive arcade-style action with increasing difficulty levels
A thrilling journey protecting a kingdom from crafty foes
What are the best online games?
Tags