Heavy Crane Simulator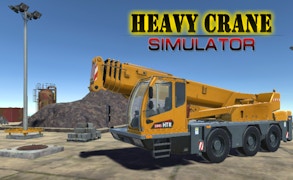 Heavy Crane Simulator
Unleash the driving junkie in you as you dive into the thrilling world of Heavy Crane Simulator, an exhilarating addition to the genre of truck games and driving games
As a delightful crossbreed of parking games and simulator games, Heavy Crane Simulator will keep you engrossed with its challenging array of tasks. Prepare to embark on a conquest where your dexterity and precision are your most powerful weapons. With an intuitive use of keyboard and mouse controls, manifest your prowess in tasks ranging from driving, parking, operating the crane to hooking up trailers. This game emerges as a shining example within the realm of Skill Games.
The level of detail in this game is astounding - let's take a moment to appreciate the intricacies embedded in the control system: WASD + Space for driving, Left Shift for acceleration, Mouse for rotating the camera. It doesn't just stop there. The game even includes specific functionalities like activating the cursor (G), showing instructions (I), operating the crane (Y), engaging the hook/connect trailer (K) and toggling supports (Z/X). To top it off, you can select machines with Tab and maneuver crane arrows using a combination of LMB+A/D/W/S or Q/E.
The beauty is that these commands are not mere gimmicks but integral parts of gameplay that make Heavy Crane Simulator an immersive experience amongst other racing titles.
In conclusion, whether you're an old-timer or a newbie hunting for some serious simulation action – Heavy Crane Simulator's captivating use of intricate mechanics woven into seamless gameplay within the arena of truck driving and parking games promises to deliver! Find yourself immersed in this exceptional blend of precision and thrill today.
What are the best online games?