Heads Up Skibidi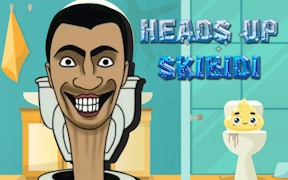 Heads Up Skibidi
Description
In Heads Up Skibidi, you'll experience an absurd yet addictive game where your main characters are a skibidi head and a poo picker. The objective is to score goals while simultaneously dodging incoming balls and collecting feces. This unique blend of the popular head ball genre with unconventional characters makes this game both hilarious and rather challenging.
How to play
In this one-of-a-kind game, control the skibidi head wearing a blindfold and try to aim towards the poo picker's mouth. Control your character using touch or mouse, dodge the balls, and attempt to pick as much poo as possible - all within a given time frame! Every piece of 'poo' you collect or goal scored adds points to your total score.
Tips and Tricks
To excel in this game, good reflexes are key. Focus on mastering your dodging skills first, then aim for the goals. As scoring decreases your time limit, pick more poo to extend gameplay time. Try trick shots for bonus points!
Features
Singular gameplay concept: Combining blindfolded soccer and picking up poo makes it a unique challenge.
Addictive: Easy-to-learn but hard-to-master mechanics will keep you coming back for more.
Funny characters: The quirky skibidi head and poo picker make for some hilarious moments.
In-game bonuses: Trick shots can earn extra points!
What are the best online games?