Head the Ball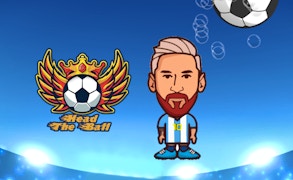 Head the Ball
Description
Steer your way into a fun and challenging soccer game in Head The Ball. This sports delight focuses on using reservedly used headshot technique to outsmart opponents. The game exhibits an intense, fast-paced action where every head strike might lead to an unexpected goal. It's not just about scoring, but also creating room for your teammates to maneuver and score.
How to play
In Head The Ball, players should primarily use their virtual heads to hit the ball. Timing is critical; ensure you hit when the ball is in the right position. The aim is to not let the ball fall off your control while simultaneously trying to score past your opponent's defense line. Your accuracy and control dramatically affect both your defensive and offensive strategies.
Tips and Tricks
To excel at Head The Ball, practice perfecting your timing, as it determines how effectively you strike the ball. Always scan the pitch for possible spaces that can be exploited by your teammates. Remember, defense wins games so make sure you are always ready to fend off incoming attacks.
Features
An exciting game that challenges users with fast-paced soccer gameplay focused on heading skills.
Great mix of offensive and defensive maneuvers with emphasis on tactical gameplay.
Hypnotic graphic designs and intuitive controls making it a complete package for soccer enthusiasts.
A dynamic gaming environment that changes as per player's actions, making every match unique.
What are the best online games?