Head Soccer 2022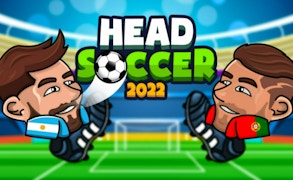 Head Soccer 2022
If you're a fan of soccer games and are always on the lookout for new challenges, prepare yourself to be captivated by Head Soccer 2022. This rapid-fire, action-packed sports football game will have you at the edge of your seat, unfolding strategies unlike ever before.
As a player, you get to choose from an exciting roster of detailed players, representing some of the world's best soccer teams. Whether you want to play against the smart and agile CPU or engage in a friendly rivalry with your peers in a 2 player game, Head Soccer 2022 provides diverse options that make it as welcoming as it is challenging.
This football game is not just about scoring goals. It's about skill, strategy, and speed. It's a sports simulation that feels real and unpredictable. With three dynamic game fields that showcase high-quality graphics and fluid movements, each match is set to be unique, making this one of the most fun games out there.
If you're new to ball games, rest assured Head Soccer 2022 has got you covered. It provides a seamless gaming experience by offering intuitive controls and simple game mechanics that are easy to grasp but hard to master. Which means whether you're novice or an experienced gamer looking for your next challenge — there's something for everyone here.
In summary, Head Soccer 2022 takes the thrill and heart-racing excitement of soccer and packages it into a compact yet fulfilling gaming experience. The engaging gameplay combined with stunning visuals make this not just any regular soccer game but one you wouldn't want to miss out on in 2022!
What are the best online games?