Happy Lemur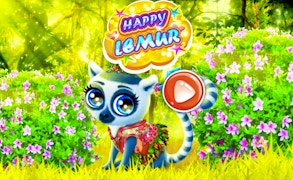 Happy Lemur
Immerse yourself in the enchanting world of Happy Lemur, a captivating animal game tailored for kids. This delightful game lets you nurture, pamper, and play with a charming ring-tailed baby lemur. It's not merely a game; it's an otherworldly journey that transports you to the lush greenery of Madagascar, right from the comfort of your home!
The core appeal of Happy Lemur lies in its engaging storyline and immersive gameplay. It deftly weaves the elements of care, fun, and fashion into its fabric. You get to bathe, feed, and groom your pet lemur, ensuring a wholesome experience that perfectly bridges the gap between virtuality and reality.
The game sets new benchmarks in leveraging technology to foster creativity and compassion amongst youngsters. Particularly appealing are the graphics - colorful yet soothing visuals that please the eye while keeping children engrossed for hours. The intuitive controls are easy to manage even by pint-sized gamers making it an ideal game for kids.
Happy Lemur effectively captures the essence of Games for Girls. Through additional features like designing clothes and accessories for your lemur, girls can explore their creative streak while having a blast at the same time. It's an animal makeover game that pairs learning with fun in one seamless blend.
In essence, Happy Lemur stands tall as one of the most endearing kids' animal games. Its allure lies not only in its vibrant portrayal of life in the wilderness but also how it mindfully embeds lessons about empathy and responsibility amidst all the fun and games. Whether you're seeking an engaging pastime for your child or looking for ways to ignite their cognitive development - Happy Lemur is a sure-shot winner all around!
What are the best online games?