Happy Fox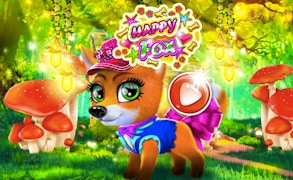 Happy Fox
Prepare yourself for an enchanting experience with Happy Fox, an irresistible entry in the world of games for girls and a charming addition to the family of animal games. This enchanting game will surely tug at your heartstrings as you find yourself becoming a proud virtual caretaker of an adorable little fox.
Happy Fox is not just another game – it's an adventure that takes players on a delightful journey where care, creativity, and fun take center stage. Here, you're in charge of the happiness and well-being of your very own digital furry friend. This isn't simply about feeding and cleaning; it's about imbuing a sense of responsibility, emotional connection, and genuine enjoyment into the gaming world.
The gameplay is simple yet captivating. It sucks you into its lovable universe where girls can dress up their tame little foxes in creative outfits, making them look as enchanting as they wish. But remember, this isn't just about aesthetics – it's also about keeping your fox happy!
The graphics are stunningly vibrant and endearingly designed to appeal to the aesthetic preferences of young girls. The controls are intuitive and easy to grasp - no frustrating complexities here! Yet within this simplicity lies great depth; there's always something new to discover or achieve in Happy Fox.
In essence, Happy Fox successfully bridges the gap between cute animal care games and fun-filled dress-up adventures. For those hunting down suitable games for girls, or those who love exploring the tender realms of animal games, Happy Fox will be a delightfully warm treat that never fails to charm.
If you're looking for a video game that combines joyous fun with enchanting artistry while boosting your child's sense of empathy – then come join us in the world of Happy Fox!
.
What are the best online games?