Happy Dog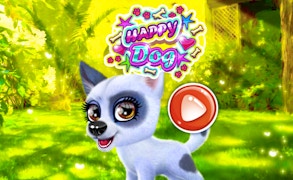 Happy Dog
Step into the enchanting world of Happy Dog, a delightful foray into Games for Girls and Animal Games. This charming kids game offers a vibrant atmosphere teeming with fur-covered fun and delightful doggy delights.
At its heart, Happy Dog is about taking care of a cute little puppy, making sure it's fed, clean, and entertained. Beyond these basic responsibilities though, the game provides an artistic avenue allowing players the freedom to create a unique style for their adorable canine companion.
The appeal of Happy Dog lies not just in its immersive gameplay but also in the deeper messages it imparts. This game teaches responsibility in a fun and interactive way! As players navigate through various tasks and challenges, they learn about empathy and nurturing, skills that go beyond virtual interactions.
Soundscapes are bubbly and cheerful, injecting fun auditory elements that kids would find captivating. The animations are crisp with bright colors that make the entire gaming experience visually striking.
The interface is extremely user-friendly too, specifically designed keeping in mind the younger players. Everything is just a tap or swipe away - from feeding your pup to giving it a stylish makeover - it's all possible with simple gestures.
Suitable for all age groups but especially enthralling for young girls who love animal games, Happy Dog effectively combines care-giving with creativity. It fosters an environment where caring for your pet becomes as exciting as dressing them up in their Sunday best!
Happy Dog, thus stands out as an innovative addition to Games for Girls, masterfully intertwining elements of Animal Games. It's more than just a game; it's an engaging experience filled with opportunities to learn, play and grow while having tons of fun!
What are the best online games?