Happy Chipmunk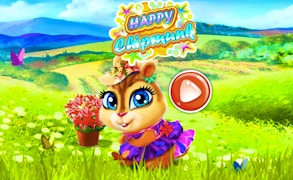 Happy Chipmunk
Welcome to the joyous world of Happy Chipmunk, a delightful game designed specifically for those who enjoy Games for Girls and enchanting animal games.
The premise is simple and endearing - care for a lovable, fluffy chipmunk, keep it happy, and indulge in some delightful activities. Happy Chipmunk captivates its audience with its adorably designed characters, gentle gameplay, and wholesome fun. It's not just about caring for an animal – this game is a heartwarming journey of bonding, friendship and loads of cuteness overload.
In Happy Chipmunk, you are not only responsible for nurturing your furry friend but also dressing it up in charming outfits. This aspect transcends the game from being a mere addition to the animal games genre into becoming a unique fusion with dress-up elements - a feature that sets it apart in the realm of Games for Girls.
The graphics are colorful and pleasing to the eyes. The enchanting environment of Happy Chipmunk immerses you into a world where love for animals is celebrated in every pixel. With simple controls, this game is easily navigable even for younger players making it truly family-friendly.
A top pick among animal games, Happy Chipmunk offers endless hours of joy and interactive fun. The positive reinforcement received on keeping your chipmunk content keeps you coming back for more – fostering compassion and care within players – a subtle lesson wrapped in a package of fun.
The finale verdict? Whether you're looking for an ideal addition to your collection of Games for Girls, or simply love playing unique animal games, Happy Chipmunk is one title that should not be overlooked. It balances fun gameplay elements with beautiful aesthetics while teaching valuable lessons on responsibility and care - making it more than worth your time!
What are the best online games?