Happy Children's Day 2020 Puzzle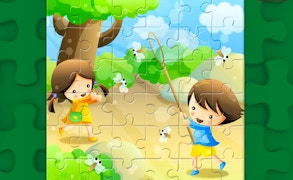 Happy Children's Day 2020 Puzzle
It's time to enhance your child's mental prowess as they celebrate this joyous occasion in the gaming world with Happy Children's Day 2020 Puzzle. This engaging game for kids is not just about fun and excitement, it's a brain-training exercise cleverly disguised as entertainment. With its focus on the Children's Day theme, Happy Children's Day 2020 Puzzle masterfully incorporates images that are both colorful and captivating.
The game comes with four challenging modes suitable for all skill levels. Gamers can select from a variety of puzzle sizes, including 16 pieces, 36 pieces, 64 pieces, or the daunting 100-piece puzzle. Each image offers a unique brain game, keeping the player's cognitive abilities sharp while providing hours of unending fun.
This educational puzzler isn't your run-of-the-mill jigsaw puzzle. It's a brain gym where every move stimulates your neurons and enhances cognitive development. Working through each puzzle is like mental gymnastics, flexing and toning your child's brain muscles. And as we all know, a healthy brain leads to better creativity and problem-solving skills.
Happy Children's Day 2020 Puzzle is more than a game; it's an immersive experience that keeps players entertained while subtly improving their cognitive function. There's nothing more rewarding than watching your child improve their problem-solving abilities while relishing in the thrill of solving each puzzle.
The fantastic blend of vivid imagery themed around Children's Day will keep children hooked to their screens for hours on end while boosting their mental dexterity. It's safe to say that Happy Children's Day 2020 Puzzle is a treasure trove of fun-filled games for kids.
In conclusion, Happy Children's Day 2020 Puzzle strikes an excellent balance between providing an entertaining kid-friendly pastime and sharpening young minds. It stands out in the saturated market as one of the most stimulating brain games.
What are the best online games?