Handit's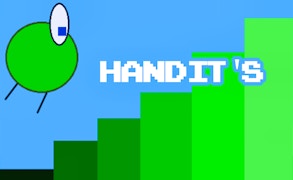 Handit's
Description
In the thrilling arcade game Handit's, you step into the world of whimsical animals endowed with extraordinary flying abilities. Your agility, precision, and quick decision making will be put to the test as you navigate through various challenges and levels. The visuals are beautifully designed to captivate and immerse you in this fantastical animal kingdom where only the most skillful flyers prevail.
How to play
To control your flying animal, you can use the arrow keys or drag controls. Your primary goal is to fly as long as possible without colliding with obstacles along your path. Collect power-ups and hidden items to boost your abilities and progress through increasingly difficult levels. Mastering timing and precision in maneuvering is crucial for success.
Tips and Tricks
Prioritize dodging obstacles over collecting items during intense moments, as crashing could end the game. Make use of the game's physics when navigating tight corners. Remember that the power-ups can turn a difficult situation around, so keep an eye open for these crucial game changers!
Features
Diverse array of playable flying animals with unique abilities.
Fully interactive environments: Use them at your advantage or risk crashing.
Rewarding progression: Upgrades and power-ups enhance gameplay experience.
Vibrant graphics: A visually stunning world that changes as you progress in levels.
What are the best online games?