Hamburger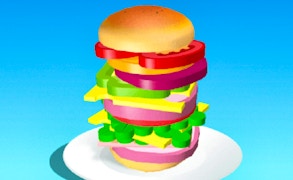 Hamburger
Immerse yourself in the fast-paced, finger-flicking fun of Hamburger, the latest sensation in the world of puzzle-based cooking games. Step into the grizzy grills of a virtual diner and whip up your favorite burgers using fresh ingredients like cheese, onions, lettuce and much more.
An exceptional addition to the roster of Hyper Casual Games, Hamburger is a delightful blend of strategy and tactile gameplay. With a swipe-and-move mechanic, it tests your strategic abilities as you juggle multiple ingredients, all destined for your masterpiece burger. Do you have what it takes to plan ahead and conjure up the perfect hamburger?
The game hits just right for every seasoned chef or amateur cook out there! Be it the tantalizing sound of sizzling meat on grill or the vibrant colors of fresh vegetables, every detail in this game has been crafted to ignite your culinary instincts and keep you hooked.
The appeal of Hamburger stems from its simplicity - a refreshing divergence from hyper-competitive gaming landscape. The game prioritizes enjoyment above all else; making it accessible to everyone. Whether you are killing time on a lazy Sunday or seeking an adrenaline rush during your lunch break, Hamburger delivers.
No matter if you're a devoted fan of cooking games or simply in search for a breezy pastime, Hamburger promises an engaging experience that is not only enjoyable but also mentally stimulating. So put on your virtual apron – it's time to craft some mouth-watering burgers!
What are the best online games?