Halloween Helix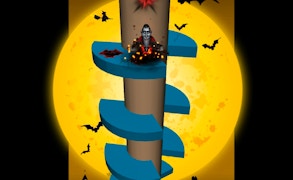 Halloween Helix
In the bewitching world of Halloween Helix, the realm of Skill Games, Ball Games, and Hyper Casual Games collides with the haunting universe of Monster Games. This thrilling arcade game meshes timeless fear and fun into a unique gaming experience. Prepare to navigate through endless gameplay realms imbued with eerie charm, testing your mettle and honing your skills.
Halloween Helix is a ghoulishly enchanting game that offers varied skins, expanding its appeal beyond its core audience. Whether you're a die-hard horror aficionado or a whimsical gamer seeking light-hearted fun, Halloween Helix's comprehensive skin roster caters to all tastes. With each bizarre monster echoing an iconic Halloween symbol, don't be surprised to find yourself embroiled in an engaging mix of fear and fascination.
The hallmark of this game lies in its endless gameplay. Journey on an infinite descent through a spiralling helix loaded with ghouls, monsters and oodles of Halloween quirkiness. As you dive deeper into the game's abyss, each level becomes more striking than the last - it's all about who can plunge the furthest without losing their nerve.
Halloween Helix blends the fast-paced appeal of traditional ball games with the strategic nuances typical to many modern Skill Games. A testament of stamina, judgement and precision; every twist and turn is a test, every monster an obstacle, every fall an opportunity for redemption.
The strategic depth we commonly associate with skill games is very much alive in Halloween Helix. The game pushes your dexterity to the limits – demanding not just quick reflexes but also shrewd judgement calls. In sum, Halloween Helix is a riveting mix of endless fun and unspeakable horrors. Its innovative blend of familiar genres ensures it stakes its claim as one standout star in both Ball Games and Monster Games categories.
What are the best online games?