Halloween Chess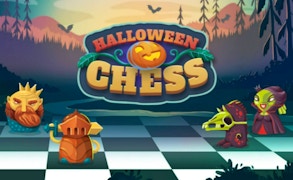 Halloween Chess
As the fall season rolls in and the pumpkin spice lattes start pouring, there's nothing that screams "Halloween" quite like a good old scary game of chess. Introducing, Halloween Chess, a whimsical twist on the traditional board game we all know and love, but intricately designed to bring you chills and thrills. One of the latest chess games and top-notch brain games to hit the market.
This is not your ordinary chess game. Every aspect of it is artistically crafted with an intention to scare, yet intrigue. Expect to see monsters replacing rooks and pumpkins substituting pawns. Each piece meticulously carved, making it feel like they've come alive on this Halloween night. The three scare-rific themes ooze macabre, certain to keep your adrenaline pumping.
The AI spans across three difficulty levels - easy, moderate, and hard. Whether you're a beginner looking for a fun distraction or an advanced chess player seeking a strategic challenge, there's something for everyone here. Additionally, if you're a newbie who needs some help or even an experienced player looking for guidance, the handy hint system is always there to guide your moves.
The most exciting feature of this two-player game is perhaps its flexibility. You can choose to play as white or black – each offering its own unique set of thrills. The light-hearted theme makes it suitable for players of all ages – ensuring everyone can enjoy this new take on a classic game.
Overall, Halloween Chess is more than just a spooky reskinning of one of humanity's oldest brain games. It's an intricate and immersive experience that brilliantly melds tradition with innovation – perfect for those seeking a fun yet challenging pastime during this holiday season.
What are the best online games?