Hackers vs Impostors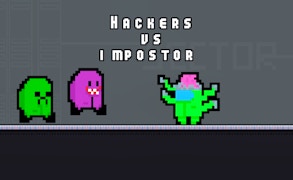 Hackers vs Impostors
Description
Embark on an electrifying battle in Hackers vs Impostors, an arcade thriller that pits you and your ally against a horde of menacing monsters. Showcasing deadly creatures, this game intensifies with each level as the strength of the foes amplifies. From spiky thorns to razor-sharp wheels, danger lurks at every corner. The ultimate goal? Survive and advance to the next daunting stage.
How to Play
The game can be played using WASD keys for one player and Arrow keys for the second player on desktop, while mobile players can utilize the touch control feature. The gameplay involves strategic moves such as double jumps to avoid obstacles or defeat adversaries. To eliminate monsters, simply jump on them!
Tips and Tricks
Maintain sharp focus and coordinate effectively with your partner to overpower the monstrous threats. Utilize your ability to double jump to dodge hazards or reach higher platforms where monsters may not reach you. Remember, timing is key when jumping on monsters - a misstep can cost you greatly.
Features
Two-player mode: You can play this game with a friend.
Diverse obstacles: It offers a variety of challenging obstacles.
Different levels: Multiple stages bring new hurdles and stronger enemies.
Innovative controls: An engaging control scheme including double jump capabilities.
What are the best online games?
Tags