Gurido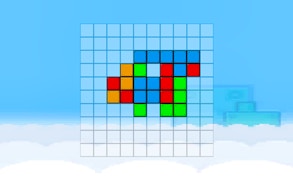 Gurido
If you're a fan of block games, brain teasers, and classic Tetris games, then the minimalistic puzzle game, Gurido, is just the right challenge for you. With its simplistic design and thought-provoking strategy, Gurido redefines the traditional boundaries of puzzle gaming.
Gurido is set in a 10x10 grid where each cell is filled with irregularly shaped and uniquely colored figures. The challenge lies in dragging these figures into a blank space on the grid to create sets of five or more cells of the same color. As you navigate this intricate world of colors and shapes, every move becomes a strategic decision that can either lead to your victory or demise.
But Gurido is not just about matching colors. It's also about catching powerful items that lie hidden within the vast grid. If you're lucky enough to catch one of these elusive items, you can clear more cells and rack up your score even faster - a thrilling twist that adds an extra layer of complexity to this enticing brain game.
Gurido's gameplay encourages players to think outside-the-box to create big series of connected cells. Every match you make brings with it a sense of satisfaction as your strategic decisions start paying off. The game's unique blend of strategy, luck, and quick thinking makes it an exciting journey into the world of puzzles.
In summary, Gurido takes the basic elements of classic block games like Tetris and elevates them to create an addictive puzzle experience that will keep you hooked for hours on end. Its combination of minimalistic design, challenging gameplay mechanics, and rewarding power-ups make it a must-play for any puzzle game enthusiast.
What are the best online games?