Guess Number Quick Math Games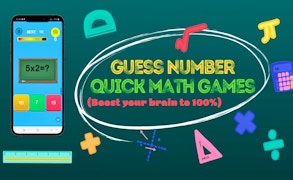 Guess Number Quick Math Games
Description
Take your mental arithmetic abilities to the next level with Guess Number Quick Math Games. This unique and challenging game prompts you to solve mathematical problems within a set time limit. It's not only fun and engaging, but also enhances your ability for quick mental calculations. This game is certain to make you fall in love with math all over again while serving as a fantastic brain workout.
How to play
The rules are straightforward. A mathematical problem appears on the scoreboard, and you must select the correct answer within 15 seconds. If you're new to the game or need more time, you can extend this time limit to 30 seconds. Your aim is to continually improve your speed and accuracy.
Tips and Tricks
To excel in this game, being familiar with tricks for elementary operations - addition, subtraction, multiplication, and division- would be beneficial. Remember, practice makes perfect! Keep playing regularly to sharpen your reflexes and strengthen your mental calculation skills.
Features
This game offers several enticing features:
All-device compatibility: Play it anywhere, anytime!
No WI-FI required: Enjoy the game offline at your convenience
Creative graphics: Enhances focus, cognition, memory and imagination
Educational yet entertaining: Improve your learning and math skills while having fun!
What are the best online games?
Tags