Grimace Ball Juggling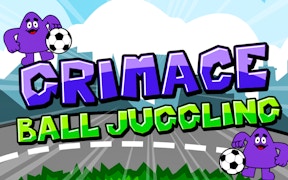 Grimace Ball Juggling
Description
Put your ball juggling skills to the test with Grimace Ball Juggling, an addictive arcade-style sports game. In this exciting challenge, you'll be tasked with keeping two footballs in the air as long as possible, testing your agility, timing, and precision. Be warned - it's more challenging than it sounds! With its immersive gameplay and simple yet captivating graphics, this is a game that will surely keep you hooked.
How to play
To keep your balls in motion, simply tap on the left or right side of the screen. Each tap equates to a powerful kick to the corresponding ball. The left side tap controls the left football, while the right side tap juggles the right football. The objective is to prevent both balls from falling on the ground for as long as you can.
Tips and Tricks
Precision is key in Grimace Ball Juggling. Wait until each ball starts to descend before tapping on the screen for maximum hang time. Keep an eye on both balls simultaneously, but don't panic if one starts falling faster - a quick series of taps can save the day!
Features
Fascinating arcade-style ball juggling gameplay.
Intuitive single-tap controls.
Addictive and easy to understand but challenging to master.
Simplistic yet engaging graphics.
A score-based system that encourages replayability.
What are the best online games?