Grid Blocks Puzzle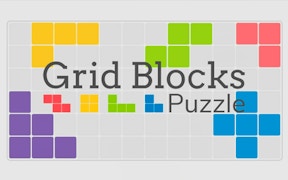 Grid Blocks Puzzle
Imagine Tetris on steroids. That's Grid Blocks Puzzle, a new paradigm of block games that takes the concept to a whole new level. This is more than just another game in the saturated market of Tetris games; it's a step beyond, a cool blend of familiar mechanics and original ideas that makes it shine in the crowd.
Grid Blocks Puzzle weaves a thrilling gameplay where you're not just arranging blocks but strategically maneuvering them around the grid. Forget about simple rotations, this time you have the power to rotate and invert the entire grid, adding an extra layer of challenges that is sure to stimulate those brain cells.
The novelty does not stop here. Introducing its unique Drag Mode, Grid Blocks Puzzle gives you an unusual control over your previously placed blocks. You can move them around, creating an interactive dynamic that is rare in traditional block games. It's all about how you manage to fill up those rows and columns with pieces to score — cerebral, engaging and utterly addictive!
But what if I tell you there's no dreaded 'game over' here? When most block games would end as soon as there is no room for more pieces, this one doesn't quite bow out yet! Your only real opponent here is time, represented by a yellow bar. Once it runs out, your game ends — A novel twist that keeps players squarely on their toes.
And if the ticking clock gets too much, shift into Zen mode where time constraints dissolve away. In Zen mode there is no scoring but unlimited tranquility as you flexibly play around with your blocks without any pressure.
In essence, Grid Blocks Puzzle presents itself as an innovative reimagining of classic Tetris games with fresh features and engaging gameplay mechanics catering to both adrenaline junkies seeking for fast-paced action and laid-back gamers yearning for relaxing zen moments alike.
What are the best online games?