Gravity Dunk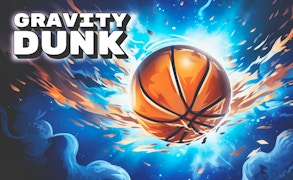 Gravity Dunk
Set in the compelling universe of ball games, Gravity Dunk propels you into a realm of adrenaline-pumping action and nail-biting suspense. This physics-based basketball game demands your unwavering focus, pitting you against lethal spikes and challenging you to survive in an endless and unpredictable course.
As you embark on your infinite journey, gripping your virtual basketball with focused intensity, the familiar thrill of ball games takes on a unique twist. Each bounce of your basketball resonates with anticipation; each movement is a desperate fight against gravity. The air grows tense as the ball shoots towards the hoop, the metallic clang of success echoing through the vibrant graphics that have been painstakingly rendered for your gaming pleasure.
The treacherous spikes that lurk in each corner introduce an element of danger into this otherwise straightforward genre of skill games. One wrong move, one momentary lapse in concentration and it's game over, your ball promptly popped by these unforgiving obstacles. But with risk comes reward - can you muster the courage to undertake this high-stakes challenge?
This is where Gravity Dunk shines, tapping into our primal instincts for survival and achievement while pushing us to our limits. It's not just about scoring hoops – it's about mastering timing, honing reflexes, and outwitting an unpredictable terrain. This fast-paced arcade-style adventure dares us to keep going despite the odds stacked against us. Each successful shot not just adding to our score but also boosting our ego – a testament to our agility and resilience.
If you have an appetite for tension-packed basketball games, then plug into the exciting world of Gravity Dunk. While it may appear simple at first glance, venture deeper and you'll discover a game that is as ruthless as it is rewarding. How many hoops can you score before meeting a thorny demise? The court is yours and the ball awaits your command.
What are the best online games?