Grand Shift Auto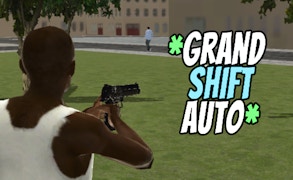 Grand Shift Auto
Unleashing a fusion of car games, gun games, and simulator games, Grand Shift Auto(GSA) brilliantly captures the essence of open-world chaos. It's an immersive shooting extravaganza that reinvents the reign of mayhem in the virtual cityscape.
Enter the battlefield armed with your finest rifles, shotguns, and machine guns, and create pandemonium in the city streets as GSA seamlessly integrates elements from shooter genres like police games and sniper games. The city becomes your arena; its inhabitants, unsuspecting targets for your rampaging spree.
In this addictive hybrid of fast-paced driving games and intricate shooting mechanics, stealing sports cars isn't just an option—it's a necessity. The visceral thrill of high-speed pursuits through the city is matched only by the exhilaration, when you swap asphalt for air with GSA's inclusion of helicopters and airplanes ready for commandeering at the airport.
GSA tantalizes gamers with three gripping missions that stretch your criminal prowess to its limits. Its weapon shop is a testament to choice and versatility, granting players ample freedom to tailor their arsenal as per their playstyle. This strategic layer elevates GSA from being another run-of-the-mill shooting game into one that demands tactical cunning.
In conclusion, Grand Shift Auto is more than just a game—it's an adrenaline-fueled joyride into anarchy. It masterfully combines elements from diverse gaming genres into a thrilling amalgamation that guarantees hours upon hours of gleeful destruction and makes it an instant classic amongst lovers of car games, gun games, police games, sniper games, simulator games, and driving games alike.
What are the best online games?