Grand City Driving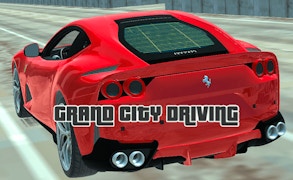 Grand City Driving
Description
In Grand City Driving, immerse yourself in the thrill of racing through a sprawling metropolis. Select from an array of luxurious supercars and take them for a spin across the city's diverse landscapes. Experience an adrenaline-fueled rush as you push these high-performance vehicles to their limits and master the art of drifting around every corner.
How to Play
Control your supercar's movement using the arrow keys. Accelerate, decelerate, and steer your vehicle as you navigate the city streets. Test your skills by taking on challenging routes or trying out impressive drifts. Progress in the game by unlocking more powerful cars and exploring new areas of the grand city.
Tips and Tricks
Mastering drifts will greatly enhance your gameplay in Grand City Driving. Practice making sharp turns at high speeds to perfect this skill. Keep an eye out for opportunities to test drive different vehicles, each providing a unique experience on the road.
Features
Variety of Luxurious Supercars to Choose From
Diverse City Landscapes to Explore
Realistic Car Physics for Authentic Drifts
High-End Graphics for an Immersive Experience
What are the best online games?