GooseGame.io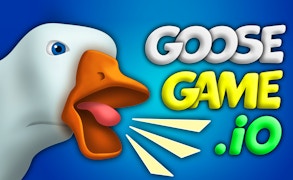 GooseGame.io
Plunge into the thrilling world of GooseGame.io, one of the most exhilarating entries in the dialing hot, .io genre. This edgy virtual spectacle intricately blends animal games, survival games, and fun games into an intoxicating mix that will have you dominating as a voracious goose with insatiable hunger.
GooseGame.io beckons you to transform into the deadliest bird on the farm, exuding a captivating balance between humorous whimsy and heart-stopping survival instincts. Your objective? Consume copious amounts of food and gather precious bonuses to grow your goose into an imposing bird of prey that strikes fear into other players.
The ruthlessly competitive online server thrives with contestants vying for supremacy. The survival of the fittest twist presents an adrenaline-pumping dynamic that constantly keeps players on their toes. Every bite taken, every bonus secured brings you one step closer to ultimate domination—one moment you're a harmless fledgling; the next, you are a terrifying predator ruling the roost.
With its intuitive controls and engaging gameplay, GooseGame.io takes the quintessential elements from popular animal games, injects the cut-throat competitiveness of survival games, and wraps it up in a package brimming with fun. It delights with its quirky premise while challenging gamers with its relentless pacing.
In a landscape dotted by cookie-cutter titles, GooseGame.io stands out like a fierce goose amongst a flock of ordinary ducks. This is not just an animal game, it's also a survival war where only the strongest goose survives, offering endless fun for those who dare to take flight in this nail-biting game.
No matter whether you're an experienced gamer looking for your next conquest or just hoping to dive into some light-hearted fun gaming, GooseGame.io promises to deliver an immersive gaming experience unlike any other. Get ready to savour victory as the apex predator of the farm!
What are the best online games?