Gobble Dash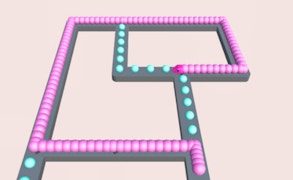 Gobble Dash
Welcome to our latest game review, today we shine the spotlight on the enthralling world of Gobble Dash, a thrilling addition to the tapestry of arcade games that expertly combines elements of snake games, ball games, and animal games into one unique experience.
Gobble Dash isn't just another name in the long list of snake games. It's a tale spun in a maze packed with beans that your snake continually gobbles up, reminiscent of the classic arcade game, yet delivered with a fresh twist that will have you glued to your device.
In this captivating world of ball games, your character is no ordinary snake. In fact, it's a spherical incarnation that brings an interesting dynamic to the gameplay. Skilfully guiding this ball-shaped snake around the confines will test your agility and quick decision-making abilities.
If you're a fan of animal games, Gobble Dash provides an engaging twist as you control your creature around an ever-increasing variety of levels. The game motivates you to consume all beans across increasingly complex mazes before escaping through the elusive exit. It succeeds brilliantly at making you feel like an agile creature navigating intriguing terrains.
The true crown jewel however is its place in the realm of skill games. With each swipe controlling your character's movement, Gobble Dash demands your full attention and offers immense satisfaction with each level completed. It's more than just a game - it's an exercise in precision and strategy where only the most skilled gamers can make their mark.
To wrap it up, Gobble Dash is more than worth your time if you're seeking for something new in arcade-based snake games. If you're ready for a challenging mix of fast-paced action with precision-based gameplay wrapped inside animal adventure themes, then don't miss out on this delightful gaming experience!
What are the best online games?