Goalkeeper Champ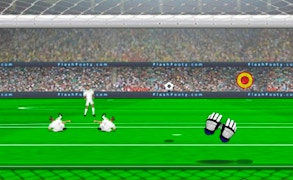 Goalkeeper Champ
When it comes to soccer games, none come quite as heart-pounding and exhilarating as Goalkeeper Champ. From the moment you tie up your virtual cleats, you are engulfed in a world of crazy football action designed to test your skills to their limits.
In the realm of sports games, Goalkeeper Champ distinguishes itself with incredible graphics that bring the pitch right to your fingertips. Every goal attempt, every save feels real, pulling you right into the heart of the action. There's little doubt that this entrant into the football games category is an absolute game-changer.
Beyond just being a virtual spectacle, Goalkeeper Champ makes a foray into the domain of Skill Games, where every decision and move counts. The game challenges players' agility, timing, and reaction speed in a frenzy of goal defending action. It adds depth to gameplay and meaning to victory - each win is more than just another notch on the score belt; it's a testament to your growing skills as a goalkeeper.
The championship journey in Goalkeeper Champ is nothing short of invigorating. Each match brings its own unique challenge, demanding players step up their game and adapt on-the-fly. Winning the championship isn't just about making saves - it's about truly embodying the spirit and grit of a champion goalkeeper.
If soccer is a religion to you, then Goalkeeper Champ should be considered sacred text in your canon of football games. The thrill ride it offers is unmatched in its intensity, ensuring that each moment you spend between those virtual goalposts is filled with anticipation and excitement. So lace up those gloves and get ready to dive headfirst into Goalkeeper Champ - top-tier among soccer games where every save means victory!
What are the best online games?