Goalkeeper Challenge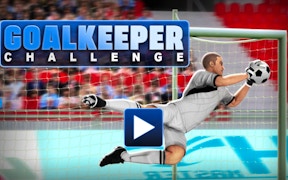 Goalkeeper Challenge
Goalkeeper Challenge, one of the latest entries in the realm of HTML5 soccer games, delivers a thrilling and immersive experience unlike any other. This is not just one more addition to the long list of football games available out there, but a stand-out game that will put your reflexes to the acid test. If you're a fan of engaging ball games, you're in for a treat.
The game sets itself apart by focusing on one specific aspect that's often overlooked in other soccer games - the art of goalkeeping. In Goalkeeper Challenge, it's all about diving at the right time and angle to keep those shots out. Your task? Save as many shots at goal as possible and make your mark as an unbreachable wall between the posts.
This captivating simulator game boasts 10 different levels, each ramping up in difficulty to keep you on your toes. The levels are carefully designed to challenge your skills progressively, making every save feel like an achievement worth celebrating. From simple straight shots to complex curveballs and stunning free-kicks, you'll face them all in this pulse-racing adventure.
In the bustling world of sports gaming, Goalkeeper Challenge emerges as an innovative simulator that redefines the typical soccer gameplay narrative. Whether you are a long-time lover of football games or an enthusiastic beginner just dipping your toes into ball games, this title is bound to captivate your spirit with its fast-paced gameplay and high replay value.
In conclusion, Goalkeeper Challenge offers a refreshingly unique take on soccer games, delivering countless hours of adrenaline-pumping action right at your fingertips. So gear up, dive into this incredible realm of virtual goalkeeping and prove that when it comes to saving goals, it's indeed all in your hands!
What are the best online games?